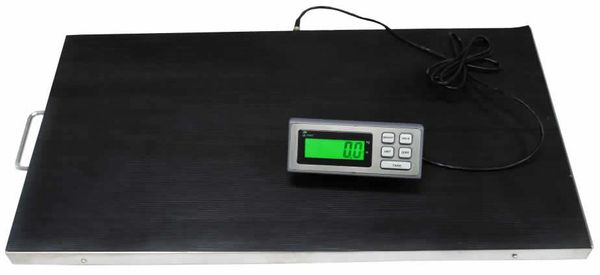 700 lb Scale 38x20
This is a great scale for goats , sheep, pigs, and dogs! 
It is made with a steel powder coated frame and has a stainless steel top to make cleaning easier and more sanitary. It also comes with a rubber mat to help prevent slipping.

Tired of guessing what your animal weighs? Here's the solution.

Keep track of growing kids
Know what the animal weighs for proper doses of meds
Get full weight value of your animals when its time to sell.
Comes with a 2 yr manufacture warranty!!
FREE SHIPPING VIA FEDEX.   
*****NO P.O. BOXES***** ( USA only) Message for shipping arrangements to other countries
Platform Dimensions (37.5 x 19.5 x 2 Inches)
Heavy Duty Stainless Steel platform with rubber mat

Large Digital LCD
Pound Or Kilogram (Selectable)
Auto Backlight (Selectable)
Auto Off (Selectable)
AC Or Battery Powered (AA)
Automatic Zero Tracking
Welded Carbon Steel Frame
Lightweight & Portable